(Last Updated On: December 15, 2022)
Induction cooktops are really amazing appliances no doubt. It is the way in which the cooking world is slowly moving. Sure, many people still use conventional gas burners or electric stoves with heat coils, but those just aren't up to snuff anymore.
Those methods of cooking are inefficient in terms of cost and energy, they are dangerous and can cause fires and burns, and when something spills, a stuck-on mess is sure to follow.
A slight issue with induction cooktops is that they only work with special induction-friendly pans, pots, and other cookware. Pots need to be made of a magnetic metal or have some kind of other induction-friendly coating; something like an aluminum pan will simply not work on these cooktops.
On that same note, it can be hard finding a good non-stick pan that you don't have to drench in grease to stop your food from sticking.
See Also:Best Induction Cooktops
So, are you looking for induction-friendly cookware that is also non-stick? Well, you are in luck because we are about to look at the best non-stick cookware for induction cooktops and some of the products they have to offer too.
As an Amazon Associate we earn from qualified purchases made on our website. If you make a purchase through links from this website, we may earn a small commission from Amazon and other similar affiliate programs. You can read our terms of service.
Best Non-Stick Cookware for Induction Cooktops Review 2021
Image
Details
Prime
Check Price

Top

Top

Top

Nuwave Copper 10 Piece Ceramic Duralon Forged Cookware Set with Lids

Prime

Eligible

Check Lowest Price

Top

Top

Top

TECHEF - Onyx Collection, 12-Inch Frying Pan, coated with New Teflon Platinum Non-Stick Coating (PFOA Free) (12-inch)

Prime

Eligible

Check Lowest Price

Top

Top

Top

Circulon 87376 Symmetry Hard Anodized Nonstick Cookware Pots and Pans Set, 11-Piece, Black

Prime

Eligible

Check Lowest Price

Top

Top

Top

T-fal C515SC Professional Nonstick Cookware Dishwasher Safe Pots and Pans Set, Induction Base, Black

Prime

Eligible

Check Lowest Price

Top

Top

Top

All-Clad E785SC64 Ha1 Hard Anodized Nonstick Dishwasher Safe PFOA Free Cookware Set, 10-Piece, Black

Prime

Eligible

Check Lowest Price
In this article we will review the following cookware.
Nuwave Duralon – Non-Stick Cookware
TECHEF – Onyx Collection Non-Stick Cookware
Circulon – Symmetry Hard Anodized Cookware
T-Fal – C515SC Professional Non-Stick Cookware
1. Nuwave Duralon Non-Stick Cookware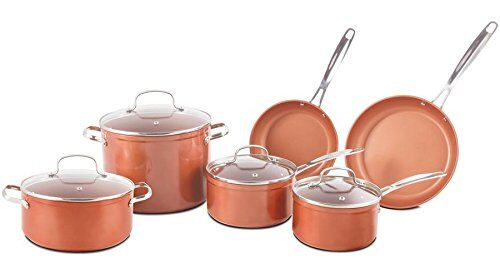 Nuwave Copper 10 Piece Ceramic Duralon Forged Cookware Set with Lids (Induction Ready)
NuWave non-stick cookware has technically not been around for all that long. They started selling their products back in 1997 when induction cooking barely existed. However, NuWave has managed to take advantage of this cooking revolution.
NuWave is specifically about induction cooking, as they do not make gas or conventional electric cooktops. This brand is currently one of the most popular around and does not fail to deliver quality products at affordable prices.
They have their own line of portable induction cooktops as well as the cookware specifically designed to be used with them. You can look at cooktops like the NuWave PIC Gold or the PIC Titanium.
Along with their cooktops, NuWave also sells induction cookware, much of which is non-stick. When you buy the PIC Titanium from the official website, you even get to choose one of the pots/pans for free.
The stainless steel induction-friendly frying pan, or the Duralon Ceramic non-stick sauce pans and frying pans make for some good options too.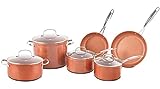 PERFORMANCE: Stylish, compact, portable and functional cookware set | Forged aluminum construction provides long-lasting performance
LIDS: Tempered glass lids allow peeking during cooking | Lid steam vents enable even heat distribution
COATING: Healthy Duralon ceramic nonstick coating simplifies cleaning | Induction ready and safe for use with gas and electric stoves
SAFETY: Pots and pans are oven safe to 900 degrees F | Free of harmful chemicals PTFE and PFOA
VERSATILE: Includes 2 saucepans, everyday pan, Dutch oven, 2 fry pans | Works with NuWave Precision Induction Cooktop

2. TECHEF – Onyx Collection Non-Stick Cookware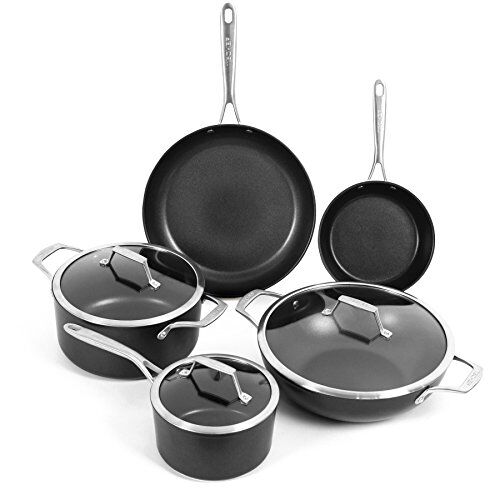 TECHEF – Onyx Collection Nonstick Cookware Set, with New Teflon Platinum Non-Stick Coating (PFOA Free), 8-Piece
TECHEF non-stick cookware is another really good brand to look into if you want non-stick induction cookware. These guys are some of the first pioneers in the field of non-stick cooking. TECHEF is Korean owned and based.
They started selling their non-stick cookware back in 1982 all throughout Asia. Since then the TECHEF brand has become extremely popular in both Europe and North America.
The thing that really sets TECHEF apart from the rest of the competition is the method in which they apply their non-stick coatings.
Many people complain that non-stick coatings can be potentially toxic when misused, but that is not the case with TECHEF non-stick cookware. These guys have combined non-stick Teflon coatings with a special method of print design application.
This helps make their non-stick cookware some of the safest around. Their tech has become one of the leading methods of Teflon and non-stick coating applications in the world thanks to the safety factor which it brings to the table.
There is also the fact that much of their non-stick cookware is coated with up to 5 or 6 layers of Teflon for durability and longevity.
Now, not all of their products are induction-cooktop friendly, but many still are. The TECHEF BHIHF28 Non-Stick Induction Ready frying pan. It has 6 layers of Teflon with a durable ceramic exterior.
It works great with all types of cooktops including induction cookers, it's durable, and provides you with lots of functionality.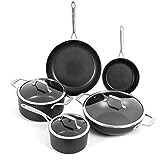 ELEGANT AND STYLISH DESIGN – The world's finest cookware with New Teflon Platinum coating
INDUCTION-READY WITH HEAVY BASE – Induction-Capable extra-heavy gauge aluminum construction with stainless steel base.
SET INCLUDES – 8-in Frying Pan, 12-in Frying Pan, 12-in Stir-fry Pan (Wok) with lid, 2-qt Sauce Pan with lid, and 5-qt dutch oven with lid
STAINLESS STEEL HANDLES – Double-riveted stay-cool handle for strength and durability. The long-brushed stainless steel handles remains cool on the stovetop. Oven safe to 450°F. Dishwasher-safe
MADE IN KOREA – Delivers outstanding performance and exceptional quality with limited lifetime warranty

3. Circulon Symmetry Hard Anodized Cookware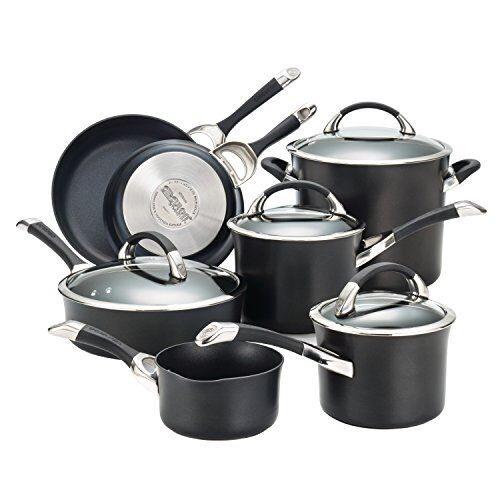 Circulon Symmetry Hard Anodized Nonstick 11-Piece Cookware Set
Ok, so these are actually two different brand names, or sub-brand names to be exact. Both the Analon and Circulon lines of cookware are owned by the Meyer Corporation, which is based in the US with the parent company being located in Hong Kong.
Related Topic: Best tea kettle for induction cooktops
They are the second largest distributors of cookware in the whole world and the largest in the US. To be specific, Analon released its first line of non-stick cookware back in 1989, and since then, they have been creating non-stick induction cookware.
To be exact, Circulon actually came first, being created back in 1984 with the purpose of delivering non-stick Teflon pans made a certain way to reduce the abrasion and deterioration of the Teflon coating.
Analon, the sister brand, was then created with the same characteristics, but also started making their pans thicker, more durable, dishwasher safe, and induction friendly. The Analon Nouvelle Copper Hard Anodized Non-Stick 11 Piece Induction Cookware Set, which comes with everything you need to cook a full gourmet meal using an induction cooktop.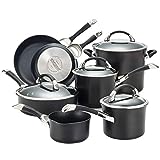 The set includes the following: 1-quart pouring saucepan, 2-quart covered saucepan, 3-quart covered saucepan, 8-quart covered stockpot8.5-inch French skillet, 10-inch French skillet, 3-quart covered saute pan
Total Nonstick System: Metal utensil safe interior features the Total Nonstick System of raised circles and premium-quality nonstick to reduce surface abrasion, resist scratching, staining and chipping, and provide extraordinary food release.
Durable Construction: Hard anodized pan bodies are 2x as hard as stainless steel. Sleek cast stainless steel handles are enhanced with rubber to provide a comfortable grasp.
All Range Suitable: Oven safe to 400°F; cookware bases are fitted with induction-suitable stainless steel; compatible with all stove tops.
Dishwasher Safe: This cookware is dishwasher safe and features premium nonstick inside and out for effortless cleanup.

4. T-Fal C515SC Professional Non-Stick Cookware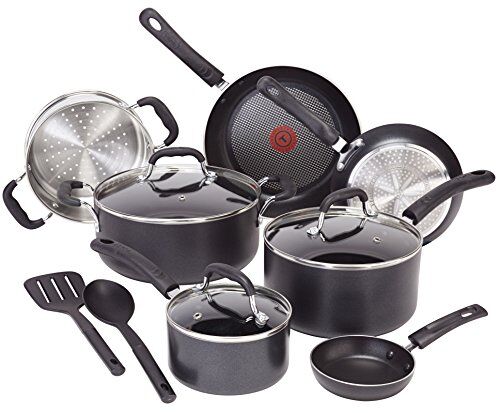 T-fal C515SC Professional Total Nonstick Thermo-Spot Heat Indicator Induction Base Cookware Set, 12-Piece, Black
Tefal is actually a French company that specializes in cookware. The company was founded back in 1956 by Marc Gregoire and has flourished ever since.
In North America and other English-speaking countries, the brand is marketed under the name T-Fal, as opposed to Tefal. The name Tefal is actually a combination of the words Teflon and Aluminum.
Now, aluminum is technically not induction friendly, but it can be coated with induction-friendly materials, plus T-fal also makes non-stick induction-friendly products that are not made of aluminum.
T-fal, as you may recognize, is one of the world's largest supplier of cookware, kitchen appliances, and other items such as linen care products, which is definitely saying something.
If you are looking for a good non-stick induction cookware set, you can look at the T-fal C515SC Professional Total Nonstick Thermo-Spot Heat Indicator Induction Base Cookware Set.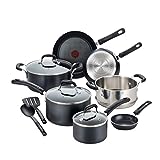 SET INCLUDES: 8 inches fry pan, 10.25 inches fry pan, 1 Egg Wonder fry pan, 1 quart; saucepan with lid, 3 quart; saucepan with lid, 5 quart; stockpot, stainless steel steamer insert, and 2 nylon tools
HEAT MASTERY SYSTEM: T fal's Heat Mastery System is a 3 ingredient recipe for perfectly delicious cooking results every time; Superior and longer lasting non stick coating, an anti warping, even heat base and patented Thermo spot technology
THERMO SPOT INDICATOR: The ring around the spot turns solid red to show when pans are perfectly preheated and ready for ingredients to be added proper preheating is key to sealing in flavor and cooking food evenly
DURABLE NONSTICK: Scratch resistant and toxin free, hard Titanium reinforced nonstick interior stands up to rigorous use and allows for cooking without frustrating, wasteful, stuck on messes; supremely strong
RIVETED HANDLES & VENTED LIDS: Riveted, stay cool silicone handles are comfortable and secure; vented tempered glass lid maintains visibility, while trapping enough heat and moisture for perfect results every meal
USE & CARE: Suitable for all stove tops, including induction (One Egg Wonder is not induction compatible); oven safe up to 400 degree Fahrenheit (lids up to 350 degree Fahrenheit); dishwasher safe; Lifetime Limited warranty

Conclusion
These 4 brands are by far not the only cookware which make non-stick induction cookware, but they are by far some of the best around. Yes, there are other reputable brands known for their high quality, but we also wanted to include some brands that are more price friendly, such as T-Fal.