(Last Updated On: December 15, 2022)
Certain motivations are worthy reasons to consider alternative cooking methods. If you love the environment—or you're simply looking for a more effective way of making food—an induction cooktop may be what you're looking for.
See Also: Portable Induction Cooktop Reviews
The Hamilton Beach 34102 Portable Induction Cooktop only has one burner which is perfect for small cooking projects. It also makes sense if you need to take cooking gear along on camping trips. You can even kit out a temporary kitchen because this can be your stove and you can heat an induction-ready kettle on this.
Hamilton Beach 34102 Portable Induction Cooktop Review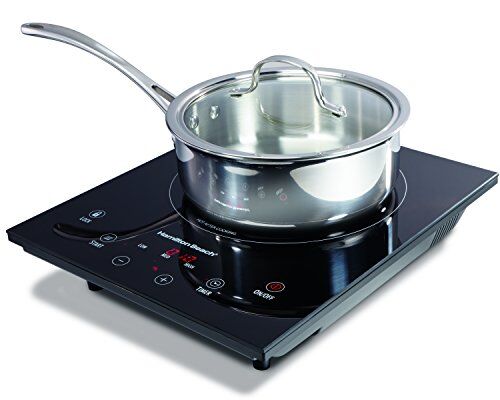 Hamilton Beach 34102 Portable Induction Cooktop
Induction cooktop manufacturers put effort into making these units safe. This is one of the main selling points so you can be sure your kitchen will cause you less worries in future:
Spills result in the unit turning off. This prevents burning smells and fire hazards, and it protects your cooktop
The cord is short enough so it doesn't become a danger as it can't stretch out across your kitchen
The plate doesn't generate heat unless there's cookware on top. This causes less burned food during cooking
There's a safety lock feature to keep children from burning themselves
It's 11.7"x 13.8" in size. This may seem big for simply a one-plate unit
The unit is 2.68" high, so it doesn't take up much space vertically. You can easily find space on a countertop or table. Simply make sure there's enough space for vapor to escape so cupboards aren't damaged
It weighs 8.5lb. This is an easy weight to manage if you need to move it around the house or take it along camping
Cord is 30" long. This prevents tangling and you can't move it too far from the power source. This is a safety feature since cords are often the reason people trip
If you want to use your induction cooktop optimally you must understand it. Some users find the technical features more complicated than regular stove tops but it affords you many options:
There are three different temperature levels: low, medium and high.
It has six power levels
Power and temperature can be adjusted in increments of 10, 40 or 60. This can be confusing and arduous to get to a specific setting
It uses normal 120V power sources and generates 1,300W
Pros
Six different power levels give you many options to match to different types of cooking
You can program the cooktop to work for a set number of minutes after which it will switch off
Its lock enabled as a safety feature. This prevents children from using the unit
The glass top cleans easily
It saves energy because no heat escapes as it is immediately transferred to your cookware
Heats up faster than normal stoves, which saves time and energy
It's portable making it perfect for outside use or even camping
Much safer than gas stoves
The cooktop can't heat above the maximum setting
You save even more power because the diameter of the pan heats up. Small pans save more
Cons
Only center of the cooktop heats up well. The outside areas won't cook food at same rate
Cooktop stays on when cookware is removed. Even though heat isn't generated, you won't like the annoying beep that ensues until you switch the unit off
Touch-screen controls don't always register immediately after you press them
Your regular pans may not work on induction cooktops
Cooking area is only 5"-10" wide. This may not be sufficient for large cookware when you're cooking for large groups of people.
It's quite large when compared to a 4-burner countertop. If you don't have a lot of countertop space, this unit will feel in the way
Induction cooktops are noisy because of the fans that keep components cool.
The touch screen responds with "beeps" every time you push a button. This can be irritating to some users
The lowest heat setting is still quite hot. This is unfortunate for cooks who require very low heat
Some users question its durability
Instruction manual doesn't afford adequate help in dealing with different types of errors
Conclusion
This Hamilton Beach 34102 Portable Induction Cooktop is an excellent option to see if induction cooking is your future. You must prepare for the rather large unit that takes up a lot of space; however, the results may be worth it. What is most important to you in your kitchen? Induction cooking that impacts unnecessary wastage may help you reach these goals. You can save time and energy.
FAQ
What cookware can be used on induction cooktops?
You don't have to throw away all your cookware when you purchase an induction cooktop. If you have some of these pots or pans you simply have to make sure they're induction ready:
If a magnet sticks to the bottom of these types of cookware you'll still be able to use them.
How do you optimize induction cooking?
If you want to enjoy using your induction cooktop for a long time, you can follow these guidelines. Induction cooktops don't require much maintenance but how you care for them determines their efficacy in the long run:
Ceramic tops are easy to clean but you have to tend to spills directly. Some substances can become imbedded in the ceramic when too much heat is applied over too long a period
Make sure you supply the correct amount of power to the unit. If you don't, it will sound an alarm and the screen will note there's an error. Most home outlets are sufficient but double check so you don't damage the cooktop or your electrical infrastructure.
You should also clean your cookware well:
When dirt clings to the inside or bottom of pots and pans it affects how they perform
You can't use cookware with warped bases. Heat is only generated where the cookware and induction top touch. If areas don't have contact they won't heat well