(Last Updated On: December 15, 2022)
Many people know the pleasures of cooking a great meal. Cooking for yourself and for your family is both healthier and less expensive that buying prepared food or going out to eat. Most of us will never have the time, the money, or the desire to become world class chefs. That doesn't mean that we don't love cooking. That is where portable induction cooktops can come in.
See Also:best portable induction cooktop reviews
These are small, portable, safe, and inexpensive cooktops that perform all of the functions as a standard stove, only for much less money, with much more safety, and with a small footprint.
Portable induction cooktops are the only cooking devices allowed in many dorms for this reason, and they are equally as well suited to anyone who is learning to cook and doesn't have much money to spend on equipment.
Image
Details
Prime
Check Price on Amazon

Top

Top

Top

Rosewill 1800 Watt Induction Cooker Cooktop , Included 10" 3.5 Qt 18-8 Stainless Steel Pot, Gold, RHAI-16001

Prime

Eligible

Check Lowest Price

Top

Top

Rosewill Induction Cooker 1800 Watt, Induction Cooktop, Electric Burner with Stainless Steel Pot 10" 3.5 QT 18-8, RHAI-13001

Prime

Eligible

Check Lowest Price

Top

Top

Rosewill Portable Induction Cooktop Countertop Burner, 1500W Electric Induction Cooker with 15 Temperature Settings, 15 Power Levels, 8 Preset Modes - RHAI-19002

Prime

Check Lowest Price

Top

Top

Rosewill Accessory RHIC-11001 Induction Cooker with Stainless Steel Pot 1500W Black Retail

Prime

Check Lowest Price
Rosewill RHAI-13001 1800W Portable Induction Cooktop Review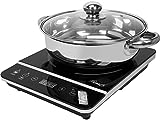 8 Power levels: 300W, 500W, 700W, 1000W, 1200W, 1400W, 1600W, 1800W
8 Temperature settings: 150°F, 200°F, 260°F, 300°F, 350°F, 400°F, 425°F, 450°F
Large LED Screen Display, Polished crystal plate Surface, Three-Hour Timer

The Rosewill RHAI-13001 1800W portable induction cooktop is a high-quality but still inexpensive cooktop suited to virtually all culinary needs. Like all induction cooktops, it is quite safe, only heating in the presence of an induction-friendly pot or pan (which includes cast iron).
It is small and light, making it portable and easily stores, and it produced powerful, even heat in precise increments. It can heat water for boiling faster than a traditional stovetop, making it great for quick meals in a college dorm.
There are a number of benefits you can get from this cooktop, including the added safety that comes from a device that stays cool until an induction-friendly pot or pan is placed on it. This makes it a lot safer around children who might decide to touch the cooktop while it's turned on. With a stove, that can lead to burnt fingers and tears but with an induction cooktop your child will be perfectly safe. They are also spectacular in small places that don't have a lot of space.
Some small apartment styles don't come with a standard stove, and in times like those an induction cooktop can be a real-life saver. They are easy to use, easy to store, and keep you from having to rely on take-out or microwaved meals to get by.
The cooking tools you may use for camping can also be a hassle. Propane and charcoal grills can be difficult to put together and annoying to clean up after. With the Rosewill RHAI-13001 1800W portable induction cooktop, you won't have to worry about any of that. It's a simple and easy plug-in and go tool that will allow you to spend less time cleaning and more time having fun.
Features
The Rosewill RHAI-13001 1800W portable induction cooktop uses up to 1800 watts of power and has 8 temperature settings (ranging from 150 degrees Fahrenheit to 450 degrees Fahrenheit). With this kind of range, you'll be able to find the perfect temperature to cook just about anything. It features a high-quality polished crystal plate surface, which may be the best in its class — a surface that is hard and crack resistant, a great heat insulator, and is easy to clean.
You won't have to worry about taking apart a stove top to clean under the coils. Just a quick wipe down and you'll be good to go. This cooktop has an LED display that is easy to read and touch controls, which make controlling the unit a breeze. It also has a built-in timer to prevent you from over and under-cooking your food.
If you lead a busy lifestyle, not having to watch your food every second while it's cooking will be a huge benefit.
It is small enough to bring with you wherever you go, including to hotels and on camping trips. It is also extremely inexpensive when compared to the cost of a full induction range or a standard stovetop. This makes it ideal as a gift to a college student.
Staying in a hotel can often come with spending a lot of money on delivery or eating out. Those kinds of rooms typically just aren't equipped for cooking. With an induction cooktop, however, you can simply buy a few things at a local grocery store and make meals that will be much healthier and allow you to save money.
Another awesome feature of the Rosewill RHAI-13001 1800W portable induction cooktop is that it's incredibly efficient. It doesn't require any fuel such as propane or charcoal to work. All you need to do is plug it in and get cooking. It's also going to heat up your pan quicker than a regular stove top, which will save you time spent cooking.
There's almost nothing you can't do with this induction cooktop, and once you're done with your cooking it's going to be easy to unplug and store due to the small size. Compared to a lot of other options, this tool is sure to be nothing less than a benefit to you and anyone else you may cook for.
Pros
8 Temperature settings from 150 degrees to 450 degrees
Made with a polished crystal plate surface
Led Display and built-in timer and touch controls
Inexpensive and portable
Cons
Does not run on batteries
Only works with induction-ready cookware
Conclusion
Cooking is joyous, but not everyone knows its joy. It may not be important to convince the whole world to cook more (though it may be), but many of us want to encourage our children and our other young family members to do so. Portable induction cooktops are a great way to get them started, but there are many models on the market and so few of them seem to stand out.
The Rosewill RHAI-13001 1800W portable induction cooktop is one of the ones that stands out as being quite simply of a higher quality than some others. It's efficient, easy to carry and store, and very simple to clean. This product is going to be perfect for camping, hotel rooms, dorm rooms, and even home use if you find you prefer it to your stove!