(Last Updated On: December 15, 2022)
Waring offers you an excellent product in the Waring Pro ICT200 portable induction cooktop. This small cooktop may be just what you need to enhance home cooking or enable cooking in other areas:
The small unit means you don't have to sacrifice much space. The benefits you gain are worth giving it a try. Let's review this revolutionary device.
See Also:Best Portable Induction Cooktops
Waring Pro ICT200 Portable Induction Cooktop Review
Induction cooking creates heat in a much different way than traditional stoves. Instead of a coil heating up, induction heating is a magnetic reaction.
When cookware—you have to use the correct type—touches the induction cooktop, an electrical current is created. This is possible because the cooktop is an actual electromagnet. This allows heat to be generated between these two objects. You can see that heat can't easily escape since it's only present where the units touch.
This also means cooking becomes safer since the induction cooktop's surface is usually less hot than traditional stoves' elements.
When you consider using new products, you'll get the most satisfaction if you understand them well. Here's what you need to know about the Waring Pro ICT200 portable induction cooktop.
Even though this product is safe, you must ensure you use it correctly. The Waring Pro ICT200 portable induction cooktop requires a 120V power source. These are present in most homes but double check before you start using your new cooking feature.
You also have these features to help you cook:
Timer feature up to 150 minutes
Eight different heat settings to accommodate a variety of types of cooking
It's a powerful unit that can have an output of up to 1,600W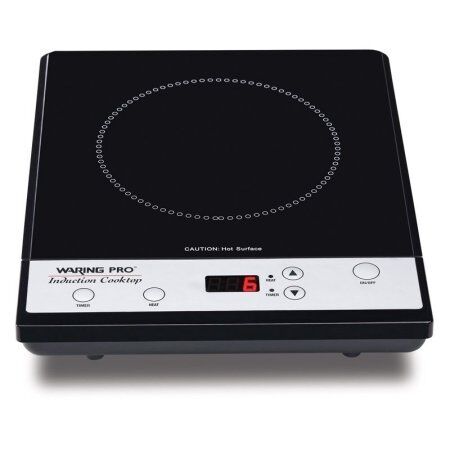 Waring Pro ICT200 Induction Cooktop Countertop Burners
Before you purchase this you must ensure it fits in your kitchen otherwise it will be a burden instead of a benefit.
You need:
2.5" in terms of height. You can easily slide it under other raised objects and bring it out when you need to use it
It's 14.25" x 11.5". When you compare this to a usual 4-burner stove it may seem a bit large. This is necessary to fit in all the features. It's still small enough to store in a cupboard if required
The 7.5" diameter heating area is sufficient for small cooking projects but not for large pots. This limits the amount of food you can quickly cook
One of the reasons you'll love your induction cooktop is the safety it offers. This is what you can look forward to:
There's a fan which keeps the unit cool and creates some ventilation. This is essential to make sure your cooking fumes don't become too overbearing
The unit will automatically shut down after 30 seconds if you remove cookware. You'll never have to worry about whether you left the stove on at home
It's even safe for the environment. There's no pollution brought on by fumes. You'll cause less smoke since overheating is less likely with induction cooktops
The short cord keeps you safe since no one can stretch it far and cause someone to trip over it
Pros
Heat switches automatically off when you remove the cookware
Easy controls through one-touch button feature
Easy to clean because you only have to wipe off the top cover
Excellent warrantees of up to five years
Buttons respond better than touch-screen feature on some other models
You can save up to 70% of energy normally used for cooking
You save time because it heats items quicker
Cooking becomes faster because of instant heat
Results in more even cooking than other stove tops
Energy saving thanks to fast cooking and no heat loss
The absence of fire—such as produced by gas stoves—means your cookware stays in excellent condition for longer
Cons
You can only use induction-ready cookware, not all types of pots and pans
Some users report problems with durability such as:
Electrical components stop working
Maximum cooking area is less than 8". This is ineffective for large dishes or high volumes of food.
The cooling fan tends to make a noise. Induction cooktops are noisier than traditional stoves
This model's lowest temperature is 125°F. This isn't very low. It's problematic if your dish only requires a little heat
There's no child lock feature on this model
Conclusion
Adjusting to a new method of cooking can cause frustration. Waring helps you handle much of these problems by offering you user-friendly products. The Waring Pro ICT200 portable induction cooktop even includes a magnet so you can easily test which of your current cookware is induction ready. Are you ready to enjoy a new, better and revolutionary way of cooking?
Induction cooking facts
Why is induction cooking gaining such a huge following? It may be the best change in terms of cooking ever. Here's why:
Induction cooking helps you save:
Time because you don't have to wait for an element to heat up. It happens almost instantly when the cookware touches the surface of the unit.
Energy because less heat is lost and cooking time is shorter
Induction cooktops also come with many safety features so you're guaranteed to enjoy cooking more
You do have to remember these facts so you're prepared for the new experience:
Make sure you have the correct type of cookware. This may require you to purchase new pots and pans. Is this something that makes sense in terms of your budget? Test your current cookware by checking if magnets stick to them. If they do they should work for induction cooking
Induction products like these have limited abilities. They may only heat small areas. If you regularly cook for many people you may need a larger product or one with more cooktops