(Last Updated On: January 19, 2023)
The Secura 8100MC 1800 Watt Portable Induction Cooktop has all the features for those budget minded shoppers. Cooking is joyful, but like all things it is not without its risks.
One of the best ways to encourage safety in the kitchen is to do away with dangerous ranges. We all know that cooking on a stove top is an important part of being a good cook, but it can be dangerous.
While it isn't possible to eliminate all danger from that situation, it is possible to mitigate it.
See Also:Portable Induction Cooktop Reviews
Portable induction cooktops are great ways of doing so. They stay cool even when they are on, unless they are in the presence of an induction-ready pot or pan.
The moment the pot or pan is removed, they cool again. This all but eliminates many of the risks of fires and burns associated with range cooking.
Secura 8100MC 1800W Portable Induction Cooktop Review 2023

Secura 8100MC 1800W Portable Induction Cooktop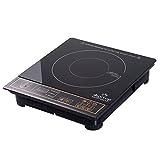 Duxtop Induction Cooktop uses 120V 15 amp electrical outlet – standard in all North American homes; lightweight and compact for easy handling and storage.
Digital control panel. Built-in count-down digital timer with 1 minute increments up to 170 minutes; 10 temperature range from 140 °F to 460 °F; 10 power levels from 200 to 1800 Watts.
With no open flame or heating element, food does not burn-on the glass cooktop so this induction burner is easy to clean—just wipe with a damp towel.
Durable 7-blade fan rapidly dissipates heat to ensure a longer product life.
The auto-pan detection will shut the unit automatically after 60 seconds if no cookware is detected; equipped with diagnostic error message system, low and high voltage warning system; ETL approved.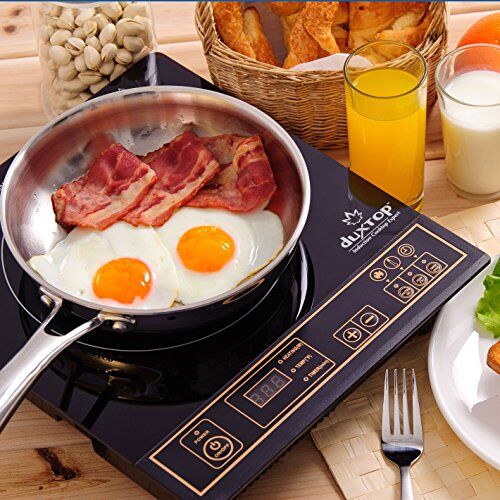 Duxtop 8100MC 1800W Portable Induction Cooktop Countertop Burner
The Secura 8100MC 1800W portable induction cooktop is a small, lightweight induction plate that is suitable for use in virtually any setting. Ideal for college students as well as the elderly, this cooktop will provide years of safe, consistent, reliable heat whenever a standard electrical receptacle is available.
It can also be useful if you like to cook while you are on the go, whether that means tent or RV camping, or staying in a hotel room. It may not always be enough to cook hot dogs over the fire or eat out every night.
The Secura 8100MC 1800W portable induction cooktop is there for you when you need something more. It's wonderfully easy to use and store, so it won't take up a lot of space when you're not using it or need to pack it away for a trip.
If you are on the market for a safe way to cook, or if you are looking at induction cooktops, then this induction plate is one to take a look at. It is inexpensive, effective, reliable, and lightweight. If you buy it for your college student, they will likely thank you. This safety is afforded by the science used within.
These induction cooktops are made to only respond to induction-ready cookware, so while you are using it with the cookware heat will be generated to create your meal. However, taking the pan off will allow the cooktop to cool back down again, making it much safer than a standard stove.
This keeps fingers from getting burnt on the cooktop, and also limits problems that can happen if you forget to turn it off.
It doesn't require a high cost to get a new perspective on cooking. At most, you may need to purchase a few induction-friendly pots and pans to go with it. However, it's all on your own terms. If you aren't sure about the benefits that can be provided to you, then you can always try it out with one pan.
Related Topic: Best tea kettle for induction cooktops
At the very least, this device can be handy when you're away from your home which will still allow it to get some use. There's virtually no way to lose with an induction cooktop.
If you find that you love it, then you have ample opportunity to grow your collection of induction-friendly cookware and maybe even more cooktops to help get a full meal created in no time at all. No matter how you choose to use it, it's sure to be a helpful new addition to your cooking tools.
One of the things people talk about most when it comes to this induction cooktop is its size and weight. It is quite small and quite light.
This makes it ideal for traveling and camping. Even at home if you opt to use cooktops instead of a typical stove, you can save a lot of space storing these away when they aren't needed.
Many people use propane stoves while they camp that can be difficult to set up. Propane tanks are heavy and can at times be dangerous. It would be much simpler to bring along an induction cooktop, plug it in and get cooking. So whether it's at home or on the go, these tools have a lot of benefits they can provide you.
The Secura 8100MC 1800W portable induction cooktop comes with a digital control panel that is easy to manipulate and read, and it comes with auto pan detection, a useful feature that allows it to know when there is an induction-ready pan placed on top of it.
This is useful because it will then know that it needs to cool down as soon as that pan is taken away, providing more safety overall. It has 10 temperature settings, ranging from 140 degrees Fahrenheit to 460 degrees Fahrenheit.
The Secura 8100MC 1800W portable induction cooktop also has 10 corresponding power levels, ranging from 20 watts to 1800 watts. Regardless of what you're cooking or what temperature you need, this cooktop is sure to be able to handle it all. The plate runs on standard home electricity, though it does not run on batteries, and can be plugged into any standard outlet.
Pros
Lightweight and compact
Digital control panel
10 temperature range from 140 degrees to 460 degrees Fahrenheit
10 power levels from 200 to 1800 watts
Runs on standard home electricity and can be plugged into any standard outlet
Auto pan detection
Cons
Only works with induction-friendly cookware
Has a relatively small cooking surface
Conclusion
The Secura 8100MC 1800W portable induction cooktop is a great cooktop at a great price. Ideal for people on the go, college students, and the elderly, this inexpensive plate makes short work of boiling water, simmering soup, and cooking just about anything you can cook on a standard range.
If you are looking for a cooktop that is light and portable, then this affordable induction cooktop should be near the top of your list. You may also be interested in the Duxtop 9600LS induction cooktop.
With this cooktop, you're going to have a much easier time staying safe, cooking and even cleaning up after. There are a lot of benefits to be had with one of these cooktops that make them well worth the cost.