(Last Updated On: December 15, 2022)
Vietnam Vet, Renaissance Man, reader and friend "Makaha" Ken, whom you may remember being featured here before with his guidelines on how to make the proper New England Lobster Roll, as well as sharing other favorite recipes, recently purchased a new Fagor® 1800 Watt Induction Pro Cooktop from Amazon. This, being an upgrade from his older 1600 Watt Fagor® Induction Cooktop.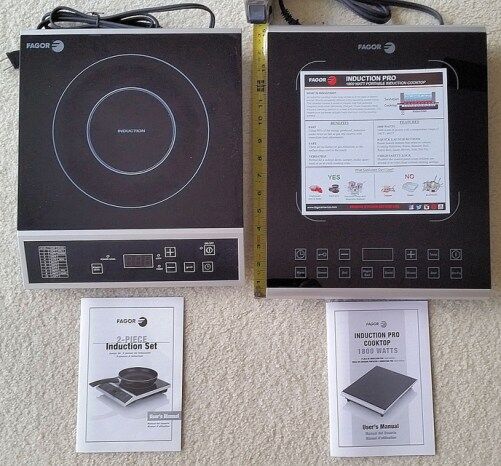 Reason being, like any other cooktop, providing you can control it, the hotter the better. Where the 1600 peaked at 430ºF, the 1800 peaks at 465ºF to really put the SEAR in seared steak, as he shall be demonstrating in this surrogate cooking demo' today.
Related Topic: Best tea kettle for induction cooktops
Another key difference between the 1600 watt and 1800 watt models are the temperature increments. The 1600 has 10 preset steps, while the 1800 has less steps at 8, however you can adjust within those 8 steps +/- 10ºF, Which is especially handy when doing things like pressure cooking, simmering and warming, having that much more precise control.
What's great is it also gives you an exact readout of the temperature within your pot or pan on the digital display, something conventional electric and gas ranges don't offer, as it's impossible to measure in the way it's being heated up.
Last but not least, it has a timer, so can "fire and forget" using this induction cooktop, which is yet again handy for pressure cooking and simmering.
Ken followed Fagor's own recipe included with the cooktop for New York Steak with Red Wine Sauce, except instead of a New York cut, he used a PRIME CUT of Filet Mignon from Costco, which is pretty much as good as you can readily get from the store, unless that is you have access to the dry or wet aged cuts your favorite steak house uses.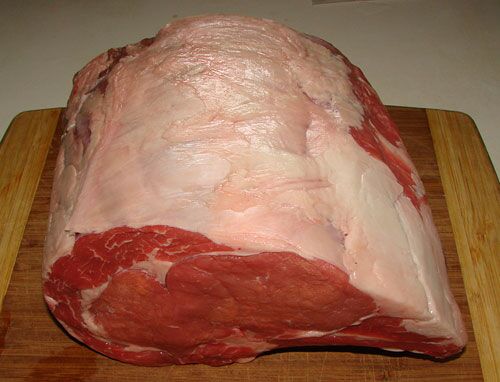 Choice grade Ribeye Roast
What? You like beef?!
Before we cook some steak, first let's talk quality, where with prime cuts of beef such as the Filet Mignon Ken got from Costco, for those who don't know the difference between that and "choice" cuts, it's all about FAT MARBLING. As you see with that choice grade beef rib roast above (same cut for making ribeye steaks), other than the fat cap, there's significantly less marbling throughout the meat itself then the prime cuts of Filet Mignon, as pictured here…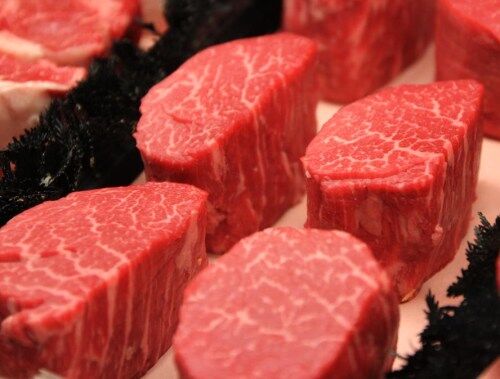 Prime grade Filet Mignon – image courtesy of HarvestRanchMarket.com
And the Filet Mignon, which resides within the center of the cow, is already a tender cut, even in choice grade, being it's not a muscle used as much as other parts (cuts) of the animal. So imagine a prime grade Filet Mignon, with the addition of the extra fat marbling, resulting in not only more tenderness, but much, much more FLAVAH!
While I never did blog it, I once did a side-by-side comparison, grilling (over charcoal) a choice grade ribeye alongside a prime grade ribeye steak, and the prime grade ribeye BLEW THE SHIRT & PANTS OFF the choice grade steak. I remember when I did that, it was $7.99 per pound for the choice grade ribeye, while the prime grade ribeye was twice the price at $15.99 per pound, both purchased at Costco. But I tell you, so worth it! If you can afford it, GET PRIME GRADE STEAK. It's so, so, so, so MUCH BETTER! Double the tenderness and double the flavor!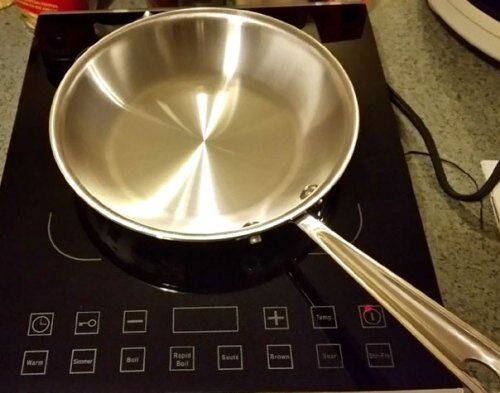 Fagor® 1800 Watt Induction Pro Cooktop with All-Clad 8″ Stainless Steel Saute Pan
High Tech Hotness
Back to the Fagor® 1800 Watt Induction Pro Cooktop, the reason I'm excited about this, is I plan on getting one myself, sold on the same exact model Ken purchased, which he highly recommends. And I've already had WONDERFUL experiences cooking with my top quality® Fagor Pressure Cooker. LOVE that cooking gadget! Which in case you haven't noticed yet, I'm totally a gadget kinda' guy. If it has a plug or uses batteries, hook me up! lol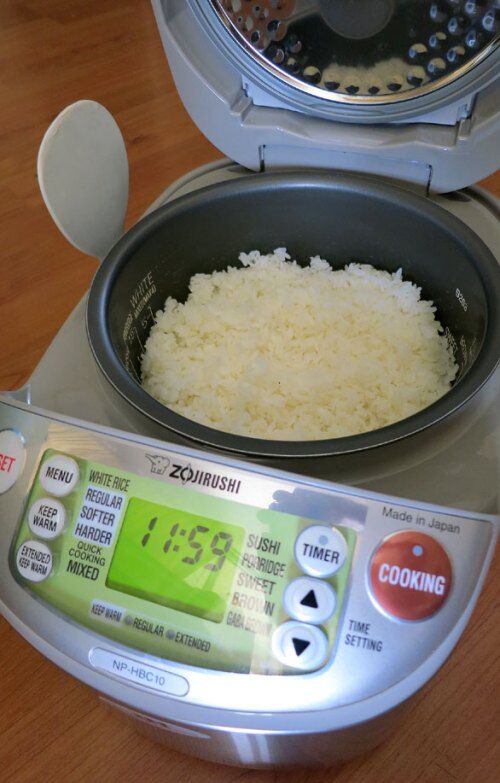 Zojirushi NP-HBC10 5.5 Cup Induction Heat Rice Cooker
Speaking of which gadgets, I'm also still jazzed with my Zojirushi Induction Heat Rice Cooker, which totally is rockin' my gohan world, consistently turning ordinary rice into sushi quality rice, and premium rice into Food of the Gods. Seriously.
And the reason for that is the technology behind induction heat, which uses the cooking vessel itself as the heat element. So your pot or pan is the heat element, as compared to conventional cooktops and rice cookers which have a heat element that you place the cooking vessel on top of. Hence, with conventional cooktops and cookers, not only is the heat not as evenly or directly transferred, but it's also much less efficient at only 50%. Induction cooktops on the other hand are said to be 90% efficient, maximizing the use of energy, and that's always a good thing.
Keep in mind, when you cook with an induction stove, your pots and pans need to have a ferromagnetic steel or iron base that can transfer the magnetized energy from the cooktop to the pan. Simply take any 'ole refrigerator magnet and check if it sticks to the bottom of your cookware. If it does, you're good. Most stainless steel-based cookware, as well as cast iron, including enameled cast iron will work, while unless they're laminated with a stainless steel base, aluminum, copper and glass cookware will not work.
I won't go too much more into induction heat technology, as we need to get on cookin' some steak! To learn all about it, see this article on How Induction Cooktops Work at HowStuffWorks.com.
While we're on gadgets, another important tool of the trade Ken depends on is the Thermapen® electronic probe cooking thermometer from Amazon. When you take cooking meat as serious as Ken does, you NEED one of these. I'm certainly one who insists my steak and prime rib be cooked no more than medium-rare, so I really should get one too.
At this point I'm handing the mic over to Ken. Take it away, Sir!
Cooking with Makaha Ken
"I did Fagor's Steak with Red Wine Sauce recipe using my new Fagor 1800 Watt Professional Induction Stovetop, however I replaced the NY Steak called for in the recipe with a Costco Prime Filet Mignon 1-¼ inch thick.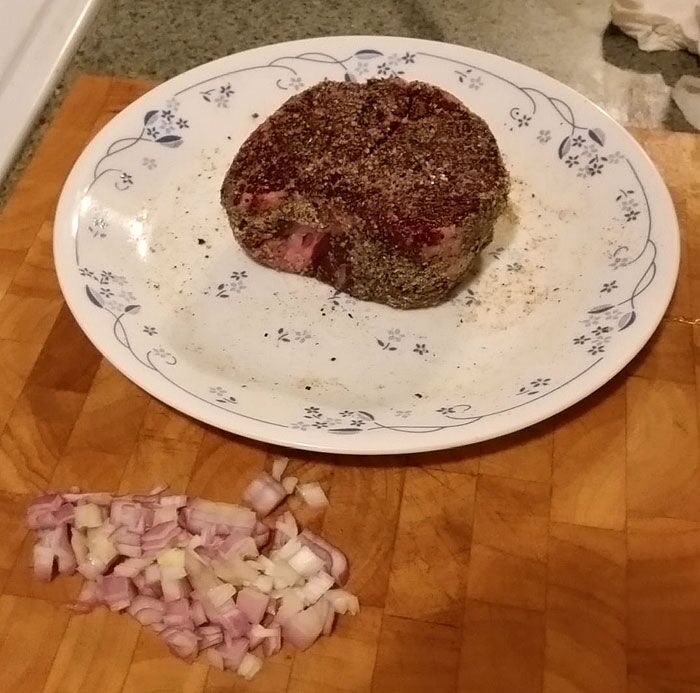 I brought the steak to room temperature and seasoned it with just salt and fresh ground black pepper and let it rest for 15 minutes, per recipe instructions.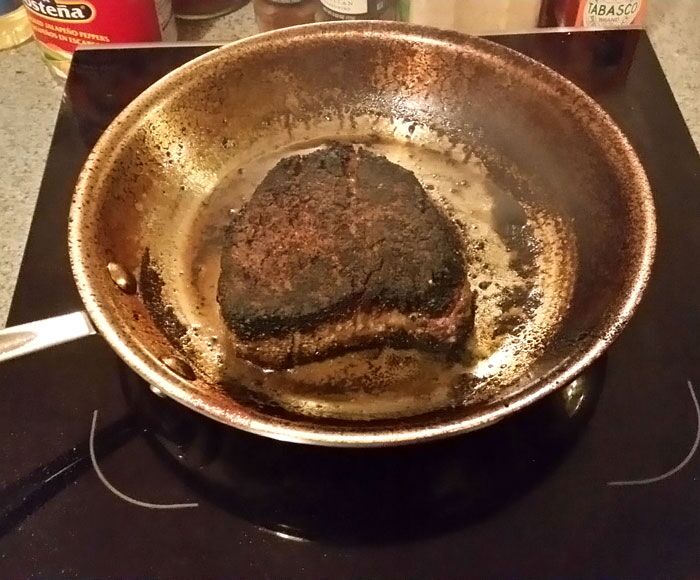 I then heated unsalted butter and extra virgin olive oil to the smoking point on SEAR (420ºF Fagor 1800W Induction Professional Stovetop) in an All-Clad stainless steel 8″ regular saute pan to develop a seared crust and pan fond. This took all of 3 minutes per side (total 6 minutes) to reach an internal 130ºF measured with my instant read digital thermal pen. I then let the steak rest in the microwave oven covered while I made the Red Wine Sauce.
The Red Wine Sauce is made by sauteing 1 chopped shallot, then deglazing the pan with 1/2 cup beef broth and 1/2 cup red wine and let that reduce by half. Then add a "splash" of red wine viengar and cook until the sauce slightly thickens. Finish it by adding 2 tbsp. of butter and stir constantly until a nice silky finish is achieved.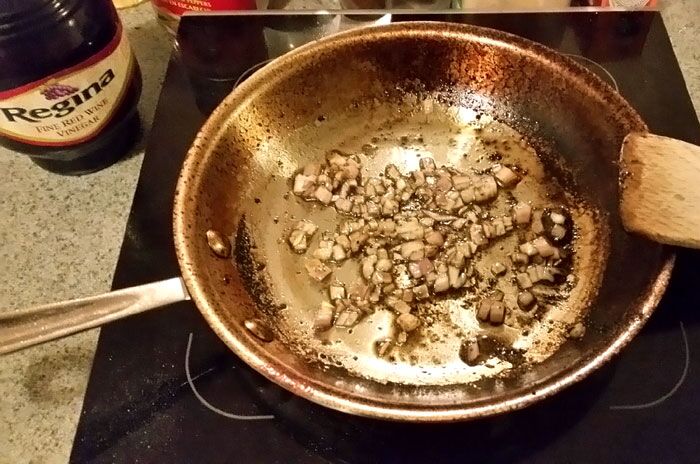 I finished the dish by coating the cooked and rested Filet Mignon steak with the red wine sauce, then plated and served with Hawaiian potato salad and Korean Takuan.
"Makaha" Ken's induction cooked Pan Seared Filet Mignon with Red Wine Sauce
I tell you, the steak turned out juicy and the crust had a slight bark to it from the sear, thanks to the extremely high heat in the pan generated by the induction cooktop. Summing it up, the Filet Mignon turned out just the way I like it!
If there's anything I'd change, is because it cooked way too fast for me — like almost instantaneous pan heat — I'll lower the heat down next time to Brown (360ºF), which should give me more time and less smoke.
They are not kidding when they say induction cooking is 90% efficient!"
~ Ken
Awesome sauce, Ken! The steak both looks and sounds FANTASTIC!
The Tasty Island related links: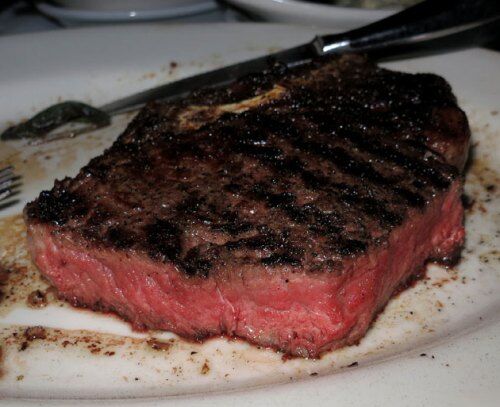 The Signature Prime Steak & Seafood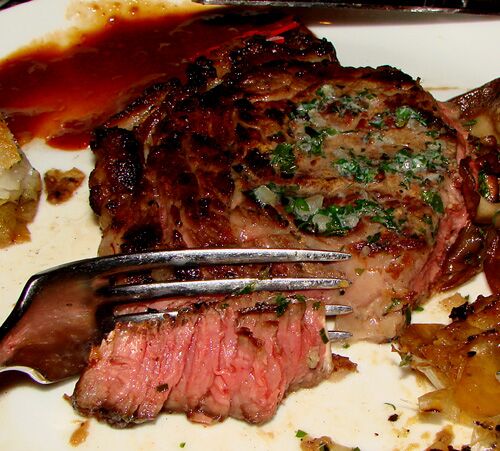 BLT Steak at Trump Tower Waikiki
Queen Street Cafe Kiawe Grilled Steak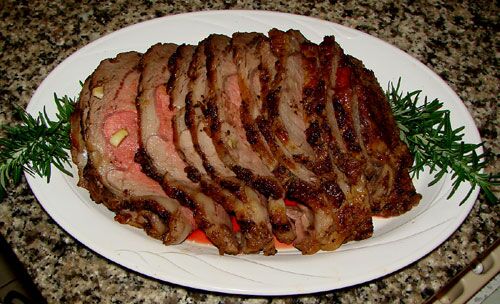 Originally published on tastyislandhawaii.com